Our Services
Visit Us Regularly For Latest Services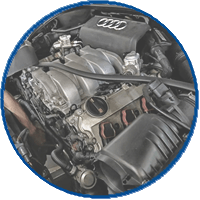 Our workshop is complete with working bays and car parks. We also have a lounge for our waiting customers that are provided with a FREE Hi-Speed Internet Access Service (WIFI). Our workshop is open from Monday to Saturday from 9am to 7.30pm with 24 hours towing services provided. For regular customers, we do pick up of their vehicles for services which are immediately serviced by our professional service technicians. We use the latest Diagnostic Equipment to service your new vehicles.
1. 24 Hours Towing Service
We provide 24 hours towing services for all type of cars, MPV, and 4WD.
2. Engine Overhaul Service
Engine Overhaul Services available for all Malaysian, Korean, European and Japanese cars. We provide Service /Replacement for Engine Piston, Piston Ring, Con Rod (Connection Rod), Con Rod Bearing, Main Bearing, Crank Shaft, Grain Valve, Radiator and Cylinder Head Machining.
3. Engine Service
Service includes Auto Transmission Flushing Service, Throttle Body Service/Repair, Alternator Service/Repair, Starter Service, Clutch Pump Service, Radiator Service, Fuel Pump Replacing, Change Engine / Change Gear Box and Car Wiring.
4. Brake Service System
Including replacing Disk Brake Pad, Servicing Disk Pump, Replacing Brake Shoes, Servicing / Replacing Brake Master Pump and ABS Resetting.
5. Car Suspension Services
Our Car Suspension Services included Servicing / Replacing Shock Absorber, Coil Spring, Absorber Mounting, Mounting Bush, Lower Arm, Upper Arm, Idle Arm, Stabilizer, Suspension Bush, Satay Bush, Arm Link and Drive Shaft.
6. Tyre Changing Service
The most important reason to worry about tread wear is safety. When your tire treads are worn, your car may respond poorly in adverse weather conditions like rain. With good treads your car will grip the road better. Also, having insufficient tread is considered illegal in many states. And finally, worn treads can make other parts of your car wear prematurely. When it's time to change your tires, your dealer wants to make purchasing a new set as simple as possible. We have the best selection of quality tires to fit your vehicle, your budget and your driving style.
7. Rims & Wheels Changing Service
Custom aftermarket wheels are as much a part of who we are as the clothes we wear, the vehicles we drive and of course the performance that we expect. We deliver the latest in wheel designs. Era Maju is dedicated to perfection and delivers the best in aftermarket wheels.
8. Wheel Alignment / Balancing & Rotation
Bad roads can be your wheels' worst enemy. If you drive down poorly maintained roads, drive through pot holes, or even hit a curb, your alignment and balancing can be greatly affected. This can cause even the slightest, tiniest alignment and balancing issue, which can accelerate uneven tire wear.